After struggling to teach Pumpkin how to ride a two-wheel bike using the traditional "training wheels" route and then finding almost immediate success with a homemade pedal-less bike, we knew we would never see another set of training wheels around our house.
For Baby Brother's second birthday we knew we wanted to get him his first balance bike (aka: run bike, PREbike, no pedal bike).  Todd did his research and decided upon the Strider.  It's low stand over height paired with a highly adjustable seat, sturdy design and integrated footrest made it seem like the perfect first bike.  We were so excited to give it him.  We had visions of him immediately jumping on it, riding around the neighborhood and loving every minute of it.
Imagine our disappointment when he refused to straddle the bike at all that day, opting to walk it around for a bit, trying to fit in  with the other kids on their bikes.
Before he ditched his new gift, he fell to the ground a few times yelling "I CRASH!" (he's Daddy boy).
For the next month, he refused to even come near the bike.  But, even so, we made sure his bike and his helmet were always available to him when we went outside.
Then at the beginning of last week, he brought me his helmet, ran to the side of the house and grabbed his bike and jumped on.  It has been so excited to watch his progress in one short week.  Now we are hearing "Woo hoo!" intstead of "No, Noooo!"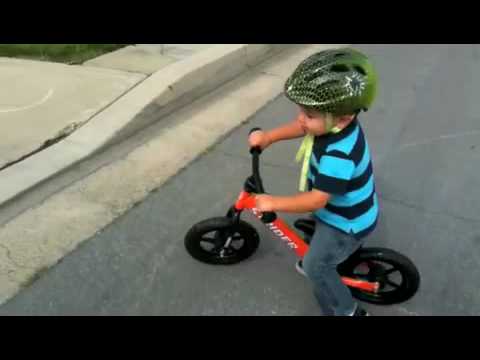 Disclosure: Strider provided us with a free bike to try out. The honest truth is that we had already decided to purchase a Strider for Baby Brother right before they made us the gracious offer.  I love pedal-less bikes and think it is the one and only way kids should learn to ride a bike. Without training wheels, they have the opportunity to learn balance.  Without pedals, there have confidence to test their balance skills without the fear of tipping over.  And they can start learning it all as young as 18months old.  I recieve no compensation from anyone for saying that.